Come join us for the Wiltshire Donkey Show.
The Wiltshire Donkey Show Committee are delighted to announce that the Wiltshire Donkey Show will be held on Sunday 4th September 2022 at the RDA in Wilton near Salisbury, Wiltshire, SP2 8PJ.
Take a look at the schedule to see the range of classes on offer - something for everyone we hope. Entries £7, closing date for entries 19th August 2022
Downloads:
The schedule and entry form are now available for download. Please click on the relevant form below:
The Schedule for download
The entry form for download
WDS Show rules for download
DBS Show rules for download
We look forward to seeing you on 4th September.
The Wiltshire Donkey Show Committee
Photos from the 2019 Show courtesy of JDR Pictures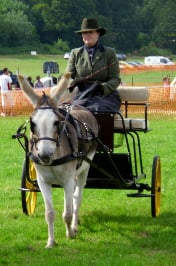 Are you interested in coming along to our Show with your donkey but not sure what to do? We are a friendly show group and always happy to support those less experienced at showing so do come along and enjoy the day with your donkey.
The Donkey Breed Society has produced a document on showing your donkey.
It is available for download, please click here